Bienvenue dans le train annuel du blog Christmas Carol du studio. Chaque année, les concepteurs du STUDIO se réunissent pour «chanter des chants de Noël» à tous nos membres, clients, fans et amis. C'est une façon pour nous tous de dire Joyeux Noël et un grand merci d'être si solidaire avec nous! Chaque designer participant a choisi un chant de Noël spécial pour vous et a conçu un adorable cadeau gratuit autour de lui! Alors enfilez vos chaussures de danse et vos voix de chant et venez chanter avec nous!
Welcome to the Studio's Annual Christmas Carol Blog Train. Every year the Studio Designer's gather together to "Sing Christmas Carols" to all of our members, customers, fans & friends. It's a way for us all to say Merry Christmas and a big Thank You for being so supportive of us! Each participating Designer has chosen a special Christmas Carol just for you and designed an adorable freebie around it! So put on your dancing shoes & singing voices and come caroling with us!
La chanson que je veux partager avec vous est la version de Mariah Carey de "All I want for Christmas is you"
The song I want to share with you is Mariah Carey's version of "All I want for Christmas is you".
Ecoutez-là ici, si vous le souhaitez:
Listen to it here, if you wish:

https://youtu.be/yXQViqx6GMY
Il n'y a pas un seul Noël sans que je ne l'écoute avec joie!
There is no Christmas without me listening to it happily!
Voici mon mini kit:
Here is my mini kit: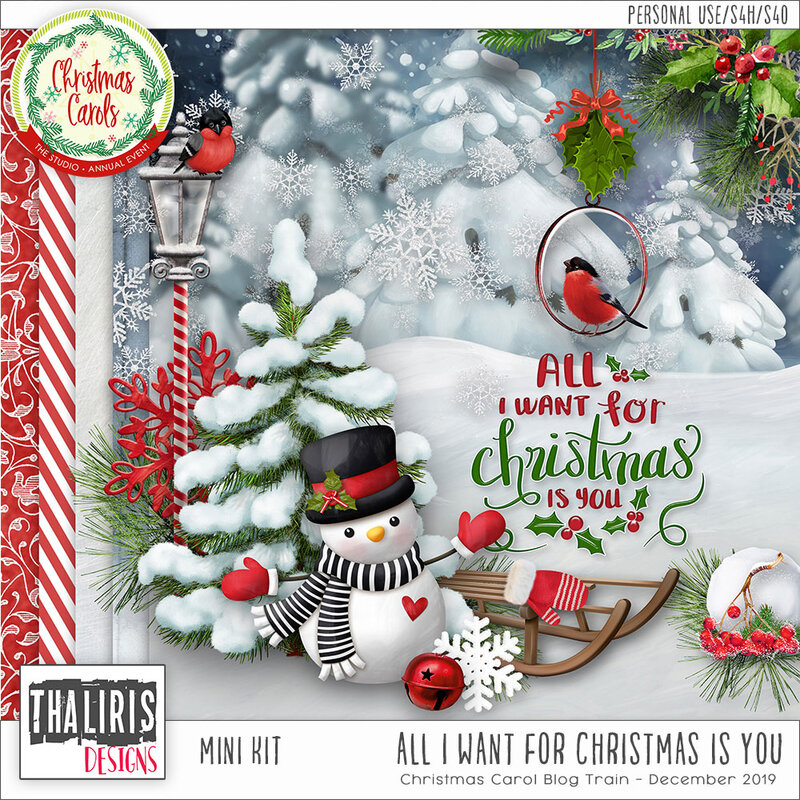 Le lien de téléchargement et les explications pour télécharger les autres mini kit sont sur ma page facebook, ici:
The download link and instructions for downloading the other mini kits are on my facebook page, here:
MY FACEBOOK
N'oubliez pas de laisser un petit message à mes amies designers!
Merci... et bonne promenade
Don't forget to leave a little message for my designer friends!
Thank you ... and have a good walk