Mon anniversaire approche... et j'ai voulu le partager avec vous pendant toute une semaine (du 2 au 10 novembre).
My birthday is coming... and I wanted to share it with you for a whole week (November 2 to 10).

Voici ce que je vous ai préparé:
Here is what I prepared for you: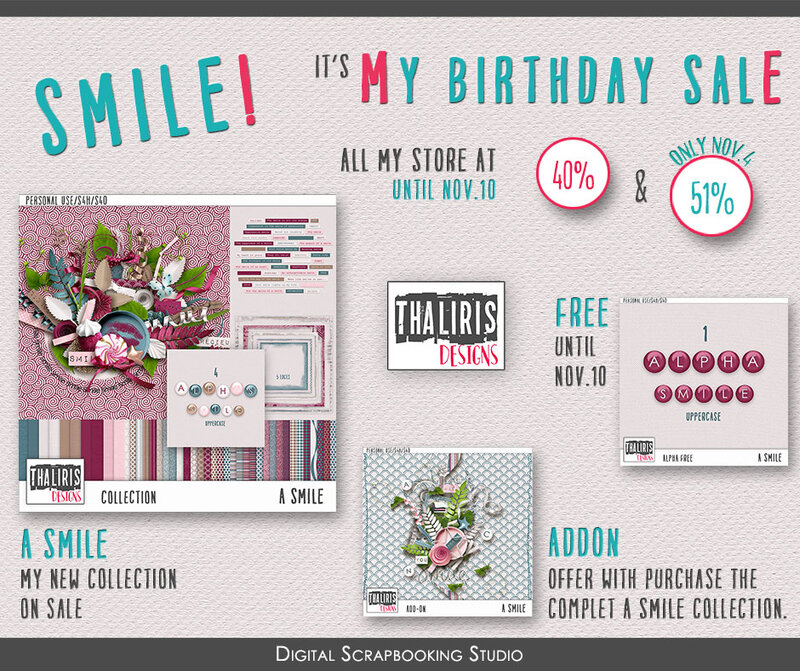 - Bénéficiez de -40% sur toute ma boutique,
- Save 40% on all my shop,

- Lundi 4 novembre, le jour J, une vente exceptionnelle à -51% sur toute ma boutique, mais seulement ce jour là! (non, non, aucun rapport avec mon age... hihi)
- Monday, November 4th, the D-Day, an exceptional sale to -51% on all my shop, but only that day! (no, no, no relation to my age... hihi)

- Ma nouvelle collection A SMILE bénéficiera également de ma vente anniversaire!
- My new A SMILE collection will also benefit from my anniversary sale!

- 94 elements (of which 66 original elements);
- Papers 1: 16 papers (of which 7 original papers);
- Papers 2: 17 papers (of which 6 original papers);
- 10 Solid papers (of which 4 original solid papers);
- 4 alphas;
- 41 word strips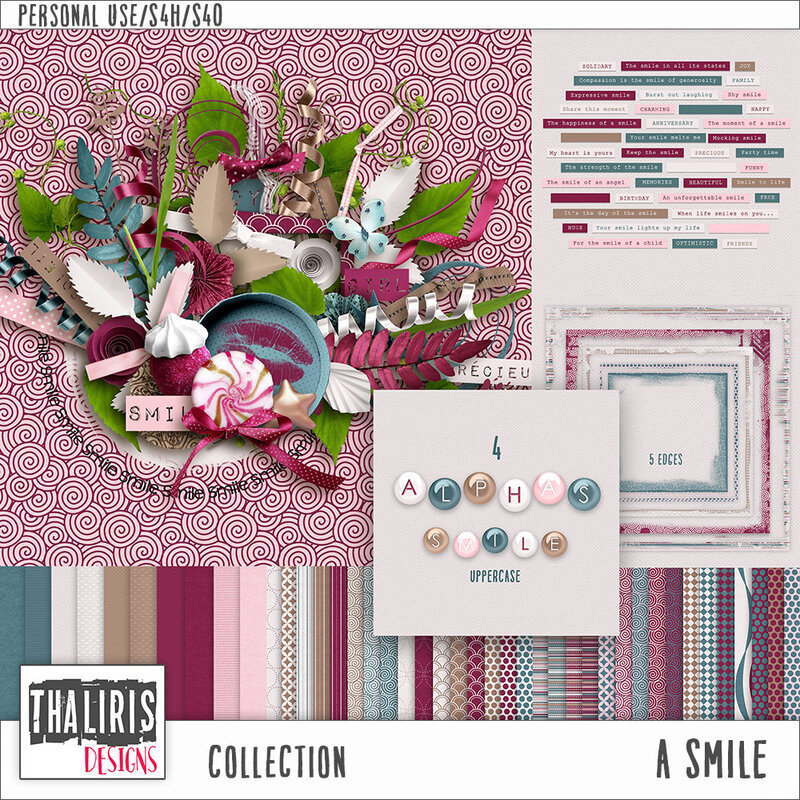 - un FREE offert toute la semaine à la boutique! (sans obligation d'achat!)
- FREE offer all week at the shop! (without obligation of purchase!)



- Construisez votre propre grab bag:
Plusieurs solutions vous sont proposées dans 3 catégories différentes: CU et packs individuels, Full kits, et Collections.
Vous choisissez 5 produits de votre choix ou 10 produits, plus vous prenez, plus le prix est intéressant!
C'est très simple, vous choisissez un grab bag et le nombre de produits de la catégories concernée.
Exemple: Si vous choisissez le Grab Bag n°1 (5 packs: catégorie CU et Pack individuel), vous mettez ce grab bag dans votre panier, ainsi que les 5 produits choisis dans la catégorie associée (vous pouvez mixer CU et packs individuels!), ce qui vous fait 6 produits dans votre panier, vous validez et le prix du grab bag s'affichera automatiquement. Rien de plus simple!
Attention! votre commande ne doit contenir qu'un grab bag à la fois, sans autres produits. Sinon la remise ne pourra pas se faire!
- Build your own grab bag:
Several solutions are available in 3 different categories: CU and individual packs, Full kits, and Collections.
You choose 5 products of your choice or 10 products, the more you take, the more the price is interesting!
It's very simple, you choose a grab bag and the number of products of the categories concerned.
Example: If you choose Grab Bag # 1 (5 packs: CU category and Individual Pack), you put this grab bag in your basket, as well as the 5 products chosen in the associated category (you can mix CU and individual packs! ), which makes you 6 products in your basket, you validate and the price of the grab bag will be displayed automatically. Nothing's easier!
Warning! your order must contain only one grab bag at a time, without other products. Otherwise the discount can not be done!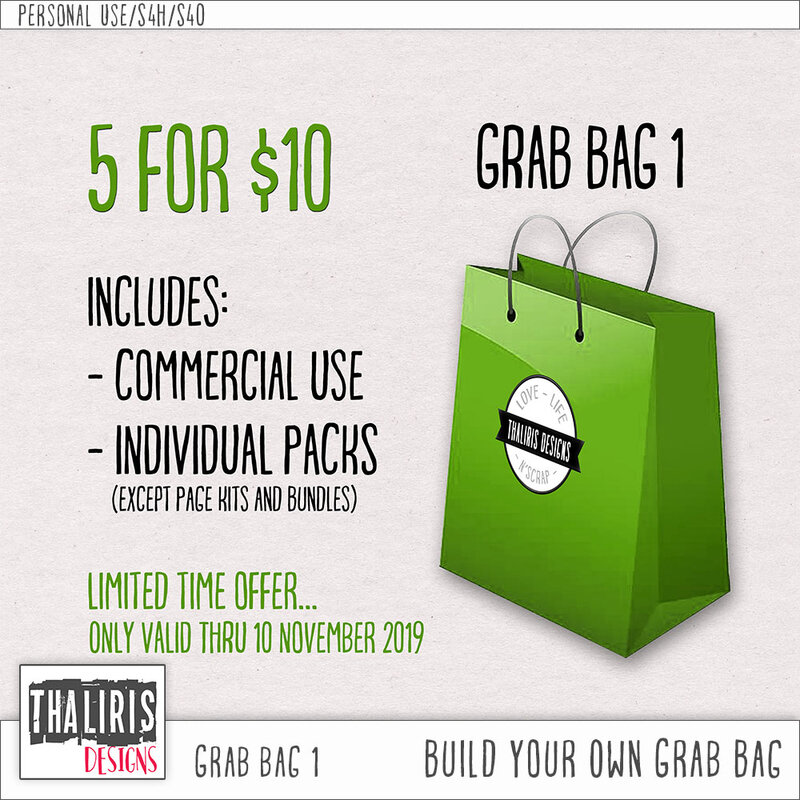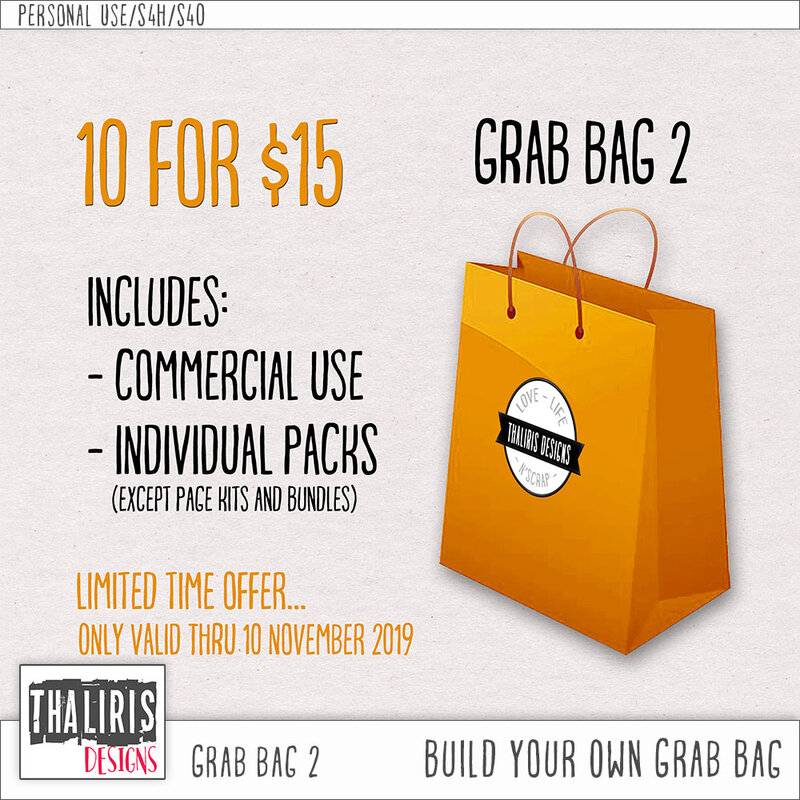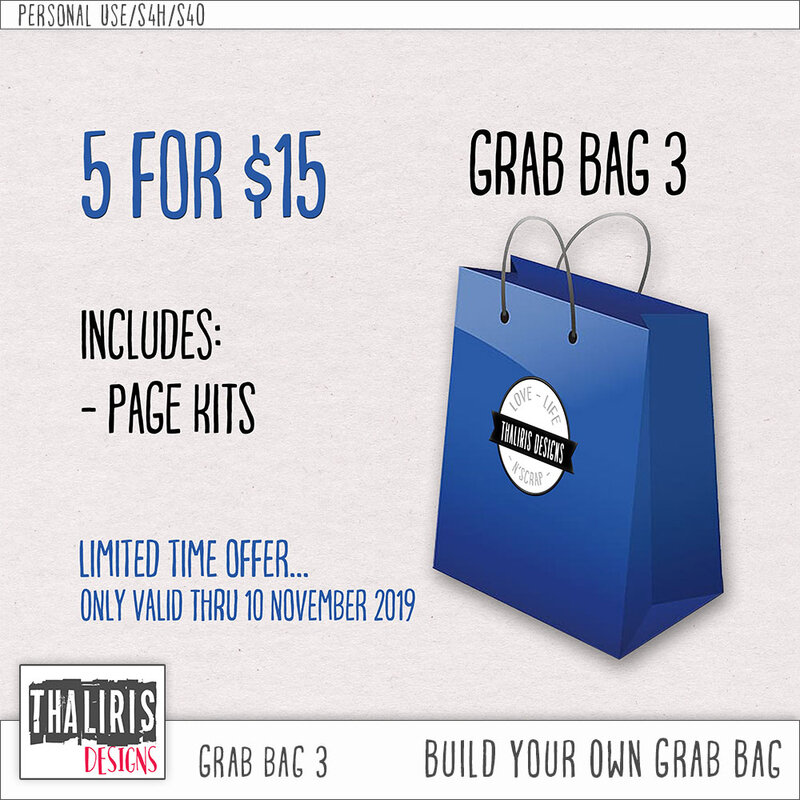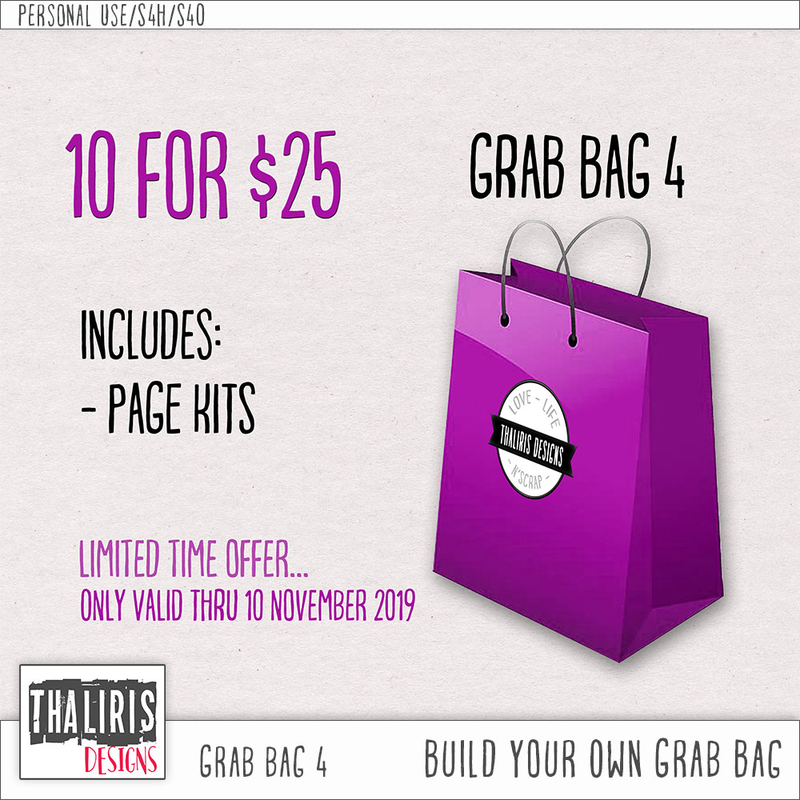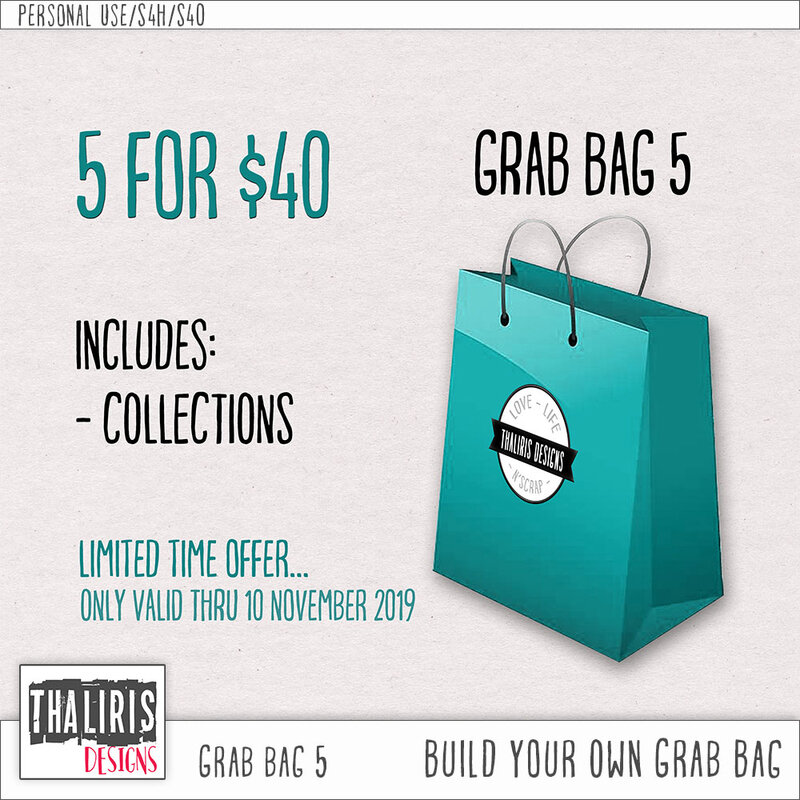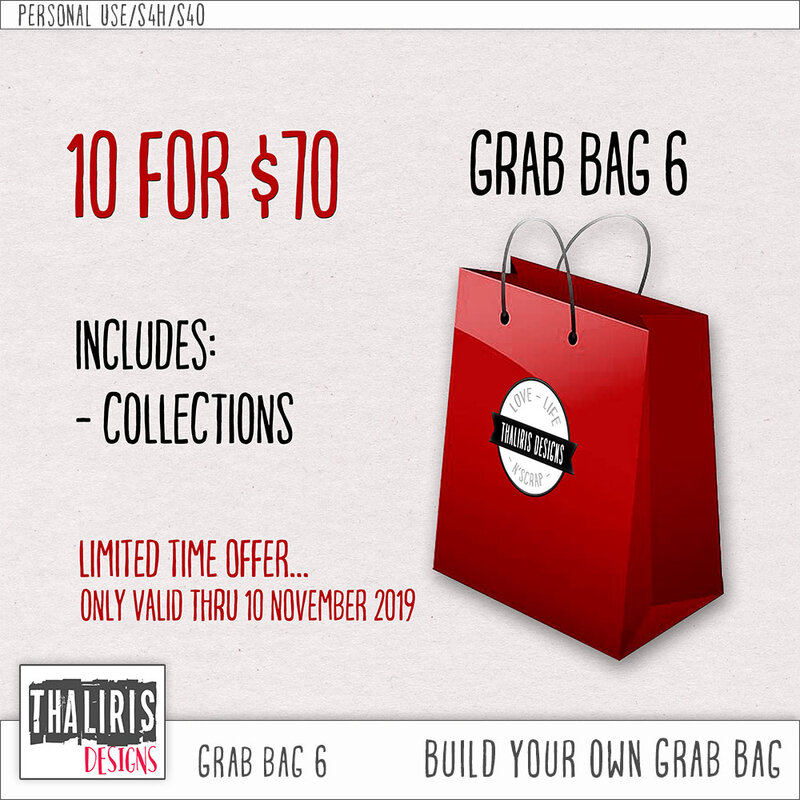 - Et pour vous remercier de commander un Grab Bag, je vous offre l'addon coordonné à ma nouvelle collection A SMILE, il contient: 26 elements, 3 papers and 1 alpha.
- And to thank you for ordering a Grab Bag, I offer you the coordinated addon to my new A SMILE collection, it contains: 26 elements, 3 papers and 1 alpha.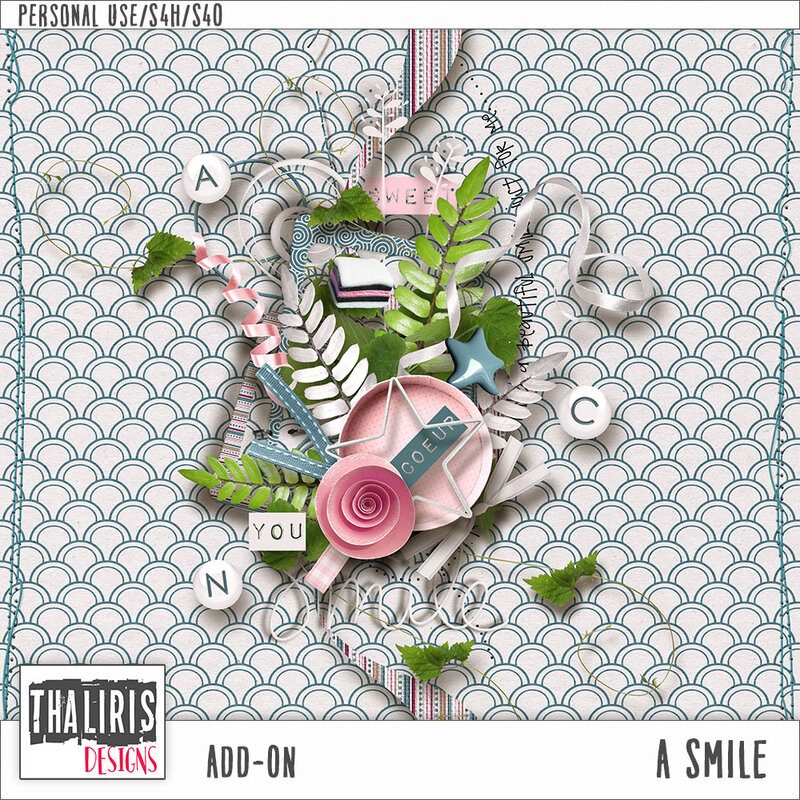 Allez, Venez faire la fête avec moi toute la semaine!
Et bon anniversaire à moi! Hihi...
Come on, come party with me all week!
And happy birthday to me! Hihi...
Kisses
Nath